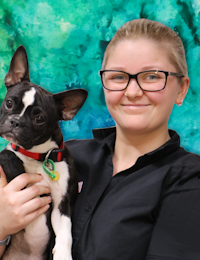 Senior Veterinarian (BVSc)
Dr Gabby has come to us from Townsville where she had been working as a vet after graduating from University. Gabby also worked as a Veterinary Nurse for 8 years before taking on her veterinary studies, so she brings a wealth of experience and knowledge when it comes to making your pet feel comfortable and giving them the very best health care.
Dr Gabby has dreamed of being a vet from just 3 years of age, and is passionate about ensuring every pet is a healthy and happy family member.
With her Dogs Belle (pictured) & Serena, Cat named Mouse, Ringneck named Holtzmann and her 5 guinea pigs.