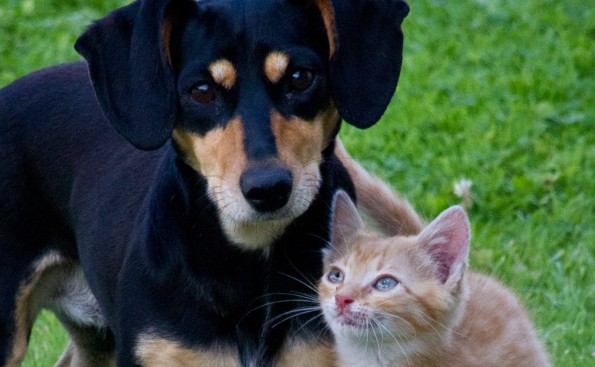 Preventative Care
Vaccinations – Regular vaccination for your dog or cat is an important part of routine health care for your pet and helps to ensure your pet remains fit and well. Many serious and life-threatening diseases can be prevented by vaccination.
Microchipping – Microchips help avoid the heartache of losing your best friend. A microchip contains a special code that is linked to a national registry. This means if your pet is ever lost, a council worker, shelter or veterinarian can scan your pet for the microchip and access your contact details from the national registry. We have the scanning technology to be able to easily identify your pet if they are brought to our practice. Each year we successfully reunite many lost pets with their owners with the assistance of microchip technology.
Titre Tests – New technology now makes it possible for us to determine the strength of your dog's immunity to the fatal diseases Parvovirus and Distemper. A quick blood test checks your dog's current resistance to these viruses. This allows us to determine whether vaccination is necessary.
Heartworm Prevention – Heartworm is a deadly disease spread by mosquitoes. Now it is even easier to keep your pet protected. For dogs, Proheart Once-A-Year Prevention Injection is recommended. And for cats, Advocate monthly spot on.
Intestinal Worm Prevention – Protect ALL your family from parasites. Intestinal worms can affect dogs, cats and even humans! Infestations can be easily prevented with a once every three months all-wormer tablet. Have your pet wormed while in for its next check-up.
Health examinations – Routine physical examinations are Recommended every 6 months. We can assist you with education, advice and care to ensure your pet has the happiest and healthiest life possible.
Wellness Blood Profiles (Adult, Senior and Geriatric) – No matter how thoroughly you examine the outside of a box, the contents will remain unknown. Likewise with your pet, no matter how thoroughly examined, there is potential for hidden disease to be present. This is why blood tests and full urinalysis are recommended to screen vital organs, and provide the accurate health status of your pet. The situation is further complicated with the rapid progression of disease and age as both occur 7 times faster than in humans.
Clinical Pathology (On Site)

Diagnostic Health Profiles – Immediate In-house blood testing is available to detect illness sooner, enabling accurate treatment to be administered immediately. No need to wait for pathology results!
* Complete Blood Count (CBC)
* Biochemistry
* Electrolytes
Histopathology – Diagnosing and being sure about those scary lumps and bumps on your pet is very important. We are finding more and more cancers and the good news they are usually treatable.
Hormone level testing – We can find exactly the right moment for timing for artificial insemination.
Urine Testing – We can cheaply and quickly check your pets kidney function with one simple test.
Cytology – We have the latest in digital miscroscopy – you can see those horrible looking skin mites or ear mites for yourself on our video screen.
Save
Save
Save