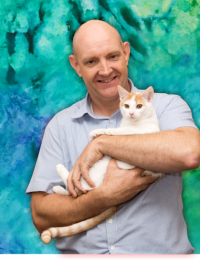 Principal Veterinarian (BSc BVMS CMAVA)
Dr Mike is a dedicated Veterinarian and father of 3 children. He has been working as a vet in Bundaberg since 2002 and opened the Sugarland Veterinary clinic Bundaberg in 2005. He is dedicated the very best in dog care and cat care and is used to vet emergency, mobile vet and after hours vet work. His special interests include reptile medicine and surgery, canine reproduction, chemotherapy, oncology and orthopaedics.
His goals this year include training at the local Jettz gym, fishing more and 4 wheel driving around the wonderful national parks of the region. He enjoys surfing, hiking, quad bike riding, scuba diving, nature walks and spending time with his family.
He enjoys attending vet conferences and keeping up to date with the latest changes in the industry. He is the Director of the Australian Veterinary Orchestra and fundraises for the AVA Benevolent fund to help fellow Veterinarians and their families in need. He plays Tuba for the Bundaberg Municipal Band and Bundaberg Symphony Orchestra and performs in local, state and national events.