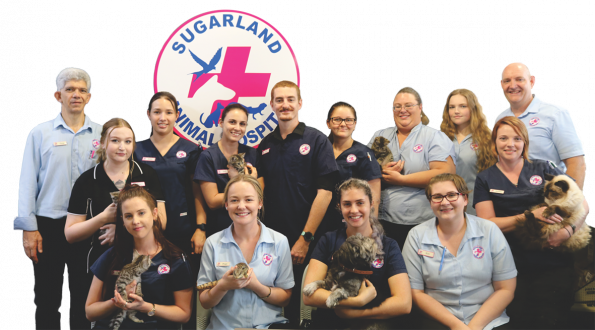 Our veterinary team in Bundaberg welcomes you and your pet!
Here at Sugarland Animal Hospital, we care for all patients like they are our very own, thus creating unique value for customers, clients, patients and team members alike. Our core value is:


Caring for the community through caring for their pets
Sugarland Animal Hospital opened in 2006 when Dr Mike Woodham commenced practice In Bundaberg. We attended both large and small animals and were heavily involved in the community with a strong commitment to wildlife rehabilitation.
We grew rapidly and by 2011 tripled in size when it acquired further floor space and underwent extensive renovations. This allowed us to establish vastly improved surgical and hospital facilities as well as accommodation to better cater for our client's needs.
As the only Australian Veterinary Association certified practice in Bundaberg, we are one of the best regarded veterinary practices with a reputation built on providing exceptional care for our patients and excellent service to our clients.
Our involvement with RSPCA Bundaberg consists of us carrying out desexings, health checks and consultations for every animal that comes through their doors. This is a very important service for the local community, by helping reduce euthanasia rates and increasing rehoming and adoption rates in the area. Over the past few years, it has been a pleasure to support a large variety of rescue groups including Widebay Animal Rescue, Fraser Coast Pet Warriors, Dogs 2 Love to name a few.
We have been privileged to grow through the support of our valued clients and their precious pets and our dedicated caring team. We look forward to serving our community for years to come.