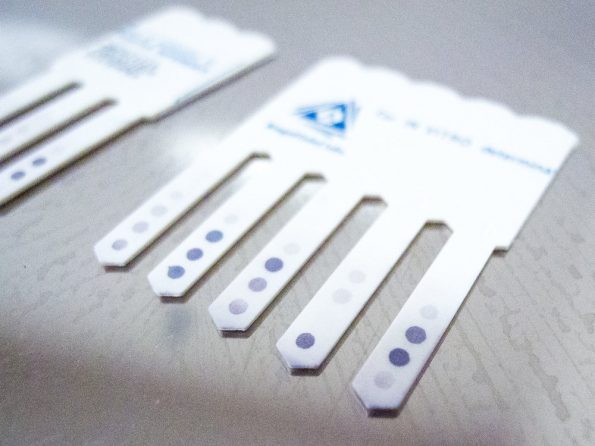 Titre testing explained
A titre test is a blood test that measures the levels of protective antibodies circulating in the blood. Antibodies are produced when an animal comes into contact with a virus or bacteria, either from disease or a vaccine. A vaccine provokes a protective response from the immune system which in turn creates antibodies to fight the intrusion. This means that we can test for the presence of antibodies and if a high enough concentration is found we can assume that that animal is still covered by its vaccination against that disease. A positive titre test result demonstrates that a vaccination may still provide protection while a negative result (or low concentration of antibodies) means that we would recommend a booster vaccination.
Titre tests for puppies
Using titre testing to check for an effective immune response following the completion of the first series of puppy vaccinations is probably the most common and important use of the titre test, and is applicable for all puppies. Not all individuals respond to vaccination in the same way for many reasons, however when puppies are drinking their mothers milk they are sharing some of their mother antibodies. As puppies grow these antibodies from their mother wear off at different rates. We give puppies a course of three vaccines to ensure that a puppies immune response is triggered to create its own antibodies. A titre test, performed approximately two weeks after the final vaccination, can provide a clear indication that immunisation was successful, and if not the pup should be revaccinated. Titre testing is the only way to ensure that a puppy has developed an effective immune response following vaccination.
Titre tests as an alternative to vaccination
Although a small proportion of dogs with a negative titre may in fact still have some immunity as a result of memory cells (another part of the body's immune response system), many researchers believe that testing for antibody status using a titre test is better practice than simply administering a vaccine booster. Those animals which return a negative titre test result would be considered in need of revaccination while those that produce a positive titre test result would not. Sugarland Animal Hospital offer annual titre testing when your dogs visit the vet for their yearly check-up, rather than giving boosters that may not be required. However keep in mind that many kennels and boarding facilities do not accept Titre testing as proof of Vaccination and may require an up to date vaccination.
Titre tests to determine the vaccination status of dogs with unknown vaccination history
It is strongly recommended to titre test a dog of unknown vaccination history, because if they have circulating antibodies, they may not need to be vaccinated. This can help rescue groups, dog shelters, and owners adopting stray or rescued animals avoid giving extra vaccinations.
Titre testing is now available at Sugarland Animal Hospital for hepatitis virus, distemper virus and parvovirus. We believe that titre testing should be a routine part of puppy care, ensuring that all pups have responded effectively to their first series of vaccinations. It will also prove to be an invaluable tool for pets that have had adverse reactions to vaccination in the past, or are unwell in some way that makes vaccination a possible risk – a positive titre test can provide reassurance for owners that vaccination is not necessary, and the pet is protected against infection.
Please note that canine vaccination testing does not replace the need for your pet to receive a thorough examination by a qualified vet. Sugarland Animal Hospital recommends health checks twice a year and believe they are critically important for detecting, preventing, and treating any diseases or other ailments as early as possible.