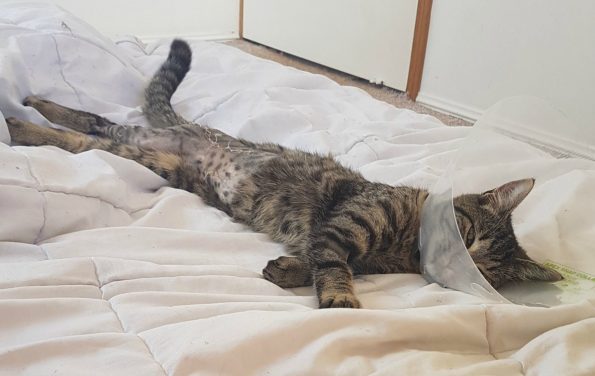 Dr Mel recently saw the beautiful Scribbles at Sugarland Animal Hospital with an injury that would make anyone feel sick.
Scribbles had what we called a de-gloving injury, the skin was pulled away from the muscle layer in her leg.
Our Care Nurses prepared Scribbles for surgery  with a careful cleaning of the wound. With Scribbles ready for surgery Dr Mel could now work her magic!
After some neat stitching Scribbles was ready to wake up and go home.
10 days Later all healed. Scribbles is looking and feeling 100% thanks to our wonderful team at Sugarland Animal Hospital!
"Scribbles is her energetic self again! Her leg is looking amazing and we appreciate all the work, time and effort you all put into her health! We also appreciate Dr Mel for getting up at 11:30pm on a Friday night to help scribbles!" – Scribbles Mum
Scribbles proved to be a wonderful healer! Just look at that beautiful leg!
For any concerns you may have regarding your pet Sugarland Animal Hospital can help with advice, products and services.