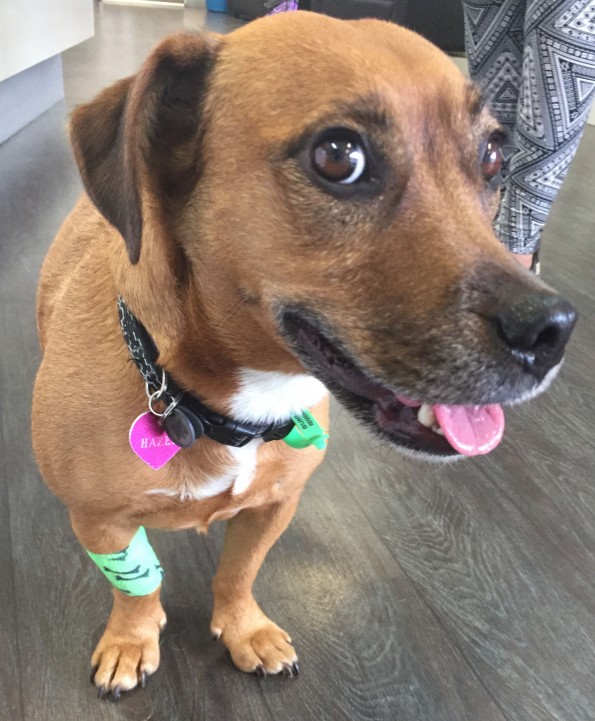 Sometimes in my job it can be quite challenging to come to a conclusion as to what breed a dog may be. Owners sometimes question what breeds may be part of their pets heritage.
Luckily we now have the technology with a simple test to find your dogs breed, and their ancestry.
Recently Hazel came with her owner who was interested as to what breeds she had in her ancestry? can you guess?
At Sugarland Animal Hospital we use a  special Mixed Breed Identification DNA Test. This genetic analysis provides insight into the behavioral traits in the breeds that have been identified in your dog, the predicted genetic adult weight and breed related risk of developing certain genetic diseases.
Your dog's weight range can vary significantly depending on age, diet and exercise.
WHY TEST YOUR DOG ?
Knowledge of your dog's DNA is important to their health and well being
The smarter you are about your dog's past, the smarter you can be about his future. Dogs are like people. They inherit physical and character traits from breeds in their family tree. They also pass along genetic disorders from generation to generation.
Your mixed-breed dog is a mixed bag of genetic traits. Understanding their ancestry helps us create an effective health and wellness program.
The DNA Test can help clear the confusion, unlocking secrets hidden in your dog's DNA.
By learning the breeds in your dog's DNA, you can make it easier for us to customize the most effective training, nutrition and medical treatment for your pet.
With just a simple blood sample, we can help to:
DISCOVER your dog's genetic make-up back to their great grandparents by comparing their genetic signature with more than 200 breeds, types and varieties.
PREDICT your dog's target genetic adult weight range
DETERMINE your dog's recommended nutritional program, and create an effective care and wellness program in conjunction with your veterinarian
OBTAIN a better understanding of your dog's breed-related behavioral characteristics
PRE-SCREEN for your dog's breed-related risk of developing certain genetic diseases
If you are considering finding out a little more about your pet why not give us a call on 0741513550 or make an appointment online!
Save