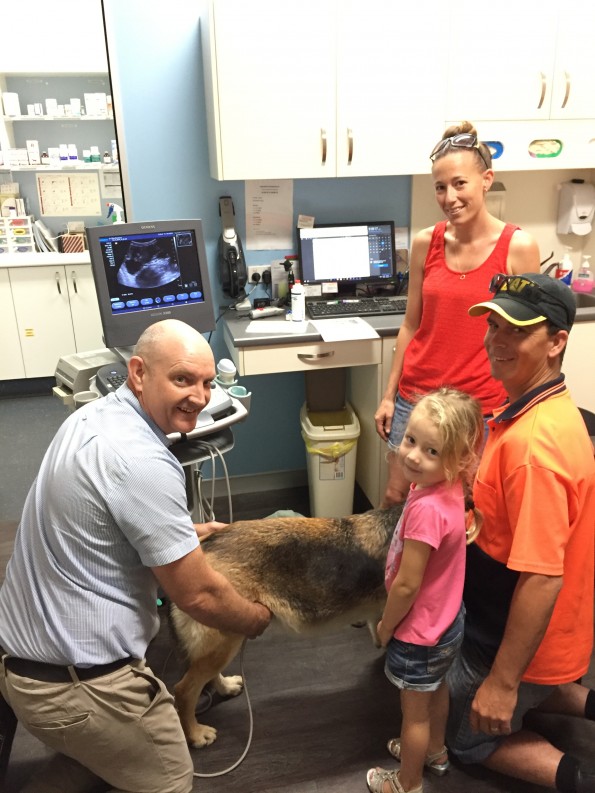 Dear Loyal Reader,
Ultrasound has been with us for many years and is a highly valuable tool for Vets. I love using it especially to tell if a puppy is pregnant, there is nothing cuter than seeing those little babies wriggling on the screen and seeing their little hearts!
have a look at this cutie here on Youtube
Ultrasound is really only using soundwaves with higher frequencies than we can hear. Ultrasound is no different from normal sound in its physical properties, except in that humans cannot hear it. Our machine simply uses a transducer to send out the sound and pick up the returning signal and recording the difference as an image we can use for diagnostic purposes. It acts a little like the way a bat feeds in the dark.
Ultrasound is a gentle and harmless way for us to detect problems or surprises (like puppies!). I use it to look at a number of other ways too. It is helpful to allow us to check hearts, livers, kidneys and a number to bodily organs all while your loved pet lies down in comfort and being attended by our loving care nurses or even you our loyal clients!
I have used ultrasound in may ways and it is often a very cost effective non invasive tool to help me come to a quick diagnosis of a problem or find a solution in a hurry.
I have used it to help find bladders to collect urine samples from cats that just want to hold on, patients with heart conditions we are not too sure about, strange lumps inside patients tummies that I'm worried about and in a lot of other ways.
We even can record these images on our state of the art Ultrasound machine and send you the copies or even a print out of those cute puppies so you can share them with your family and friends!
If you are interested in our service then please let our caring team know on 0741513550
feel free to have a look at our Facebook page https://www.facebook.com/SugarlandVet
Kindest Regards
Dr Mike and the team at Sugarland Animal Hospital
10 Heidke St Bundaberg QLD
Save
Save